Juniper Disco | The Mini No. 5
I do, in fact, live on Cape Cod.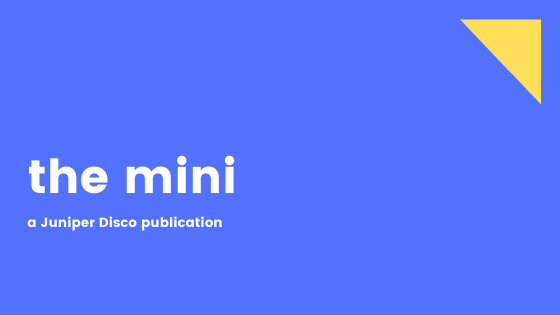 Staying home this summer has created an unexpected limitation — a lack of depth in my field of vision. The growth around our house has closed in protectively, keeping a radius of lush green nature between us and the nearest human. It's also blocking what I can see in the distance, obstructing my hyper-vigilant need to see what's coming. I am feeling both safe and trapped, safe and trapped, safe and trapped. And completely unable to see what's next.
The summer cadence is off. Weekend? Stay home. Weekday? Venture out. Raining and grey? Perfect time to explore the uninhabited spaces and do errands away from town. Sunny? Enjoy the deck and our inflatable pool in the front yard. We're in the Upside Down World this summer.
There are too many people around right now. Always are in the summer. I've long resigned myself to surrendering the town to the tourists for three months of the year, limiting myself to the pieces that I really love, and reclaiming it all come September. This year it feels like they've taken too much. Just a day off from the pandemic in their lives feels like the theft of my whole world.
Still … it's July, almost August, and I just need enough days when the sun on my face tightens and shrinks my skin just a little bit. I need the salty-aired pine scent that punches me back to the childhood cottage in Eastham where my Nana would lead me by the hand to search for bobwhite quails in the overgrown field grass outside. Where I'd watch the silverfish on the wall from the sticky humid space of my single sheet bed. I need to splash about the flats at low tide, Stephen chasing after the birds, the sun sparkling off the surface of the water while tiny fish swim their hearts out in the two-inch deep currents. I need lobster rolls and an ice cream cone. I need to see the ocean every day to remind me that I do, in fact, live on Cape Cod.

*********
A few weeks ago, a monsoon descended out of nowhere and drenched only our small coastal town. Thanks, Universe, for the private storm. My plants were over-saturated and I've been trying to save them ever since. It's not the first time this has happened, but this year MY PLANTS MUST THRIVE. My mental health depends on it.
We've moved from fuck-it-all decision making to a well-if-this-is-our-life-now-maybe-we-should/shouldn't approach. There is now spinach in the crisper.
I re-discovered the joy of popsicles. We bought a frozen cocktail maker to create our own frosé and Fraperol. And then we bought a second one in blue. The Super Mr. is turning out summer juicy fruit hand pies and galettes. I ate blueberry pie ice cream on an orange creamsicle cone.

I am now on Day 99 of learning Portuguese in Duolingo and earned enough extra points to buy Duo, the owl mascot/logo, a cozy champagne track suit to wear.
I've gone searching for wild blueberries on the wooded paths (bitches picked them clean!) and I've been driving around the back roads looking for farm stands I've heard about. I now keep an empty vase in my car for wildflowers.
Someone is eating my basil.
I've finally settled down enough to read some books. I'm shutting out the Upside Down World and disappearing into outros mundos.
I've been rambling through cemeteries, back beach paths, community gardens, and unpaved roads. Still haven't found what I'm looking for, an uncluttered brain and an unbothered soul.
I worry about the elders in our immediate, extended, and chosen family. They are having a hard time right now.

We've had a few endearing raccoon encounters. Both complete surprises. Both starting with my special critter encounter scream.

Our bird aviary is surrounding our home sanctuary with activity. The crows have been clicking to each other — the sound similar to a woodpecker drumming on a trunk. I moved my deck lounger to get a better view of the trees — now I lay there with my binoculars on my stomach waiting and watching for the robin fledglings and the cedar waxwings to devour the berries above me. Over in the bird gymnasium, we have fledgling catbirds. I watch the mama gather bird jelly from the feeder and deliver it to the kitten birds' expectant mouths. We also have a crazy cardinal with a funny plumed head that flies erratically around the deck catching bugs. Each of these moments pulls me up just a little bit so my face isn't dragging in the mud.
One of the fledglings flew hard into our window recently. Stephen and I watched over it from inside until she was able to gather herself and fly off. I've never been so stressed.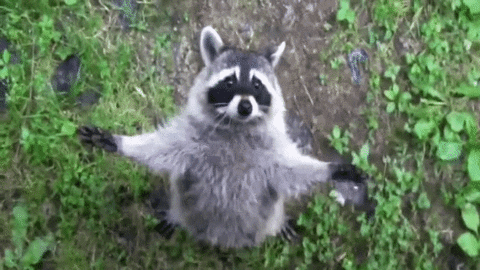 **************************
Also, here's some stuff:
"Pickled Limes." A beautiful tribute to a lost heritage and to family love expressed through food. Nourishment for our souls! (I suggest you listen to the podcast version.)

I started watching TV again. Like, a lot.

Dirty John, Season Two: The Betty Broderick Story (USA). We just call it "Bets" in our house ("is Bets on tonight?"). ALL the Emmys for Amanda Peet (and maybe just one for Christian Slater). Our dear friend quotes from the original made-for-TV movie all the time so Bets was already a part of our regular lives. But this version ventures beyond the Crazy Bitch! one-sided telling of the facts. // Into the Night (Netflix). The premise: as the sun rises around the world, people are dying en masse. The solution: board a plane and stay ahead of the sunrise. I was on the EDGE of my seat! // Baptiste (PBS), the latest season of Grantchester (PBS), and season three of Marcella (Netflix). ALL great moody British mysteries that you can half pay attention to while doing something else. I assume you all do that, too.

I May Destroy You (HBO). Michaela Cole's masterpiece about rape and consent is based on her own sexual assault that occurred while she was working on Chewing Gum. She also illuminates the Black British experience and how race issues play out in the UK. She takes on issues of consent in the Black gay community. And somehow, despite those incredibly heavy themes, she manages to make it entertaining. // High Seas (Netflix). It's very Agatha Christie and it's dubbed, which gives it a little telenovela flair. // Padma Lakshmi's new show, Taste the Nation (Hulu). Just like when she leans past Tom Colicchio to talk to Gail Simmons at the Judges' Table, Champagne Padma connects most with the women in these stories. // Devs (Hulu). This show is known as The Weird Show in our house. It's cerebral. There is a lot of dialog about determinism that I missed because I was doomscrolling. And there is the weirdest fucking corporate logo statue you will ever see. Yet I'm glad I watched until the very end.

Antonio Carlos Jobim's Wave. We're still listening to bossa nova this summer. This 1967 album from the father of New Trend who wrote "The Girl from Ipanema" will have you zoo be zoo be zoo-ing around the house. Also, best album cover ever.

"Swimming Lessons" episode of Outside/In podcast. "70 percent of African-Americans lack basic swim skills [and] African American children are five times more likely to drown than other children."

Khadja Bonet's Childqueen. Roller rink organist meets the setting of Midsommar accented with a tear dropper filled with psychedelics.

The "Allergic to Water" episode of the Beautiful Strangers podcast. Can you imagine being allergic to water? WATER. Living hell.

Lido Pimienta's Miss Colombia. "The album examines violence and heartbreak, venerating Indigenous and Afro-Colombian land and art, both overshadowed by national identity."

"Are Ghosts Haunting the British Museum?" "It was the orbs that drew in the overnight security team." // "Death at Delta Sig." "Fraternities own $3 billion in real estate and house a quarter of a million students who tap into an unrivaled alumni network of presidents, members of Congress, corporate executives and Wall Street investors." // "The Bipolar Nanny Diaries." "Me, thinking how those on land have so much to say to the drowning. Me, wondering what I owe, to whom."

Island and Spice. This gorgeous online magazine explores "the culinary state of the Caribbean diaspora." Issue 4 is about the disappearance of pink guava. I watched a Zoom interview with the author of "Chopsticks, Forks and Knives. The Inequality at My Dinner Table" who writes about "growing up as a Black, Chinese and Jamaican American in Harlem in the 1960s and how she navigated racism with flatware and her fists at the young age of 10." There's a recipe for Scotch bonnet cookies and rum rum chicken.

Medasin's new interpretation of Toto's "Africa." This is the Club Med version we've all been waiting for.

A few local things:

SAVE THE HINDU! On their way to Provincetown for a late start to their summer season, the Schooner Hindu hit an unmarked, submerged boat that damaged — but luckily did not sink — her. Here's a video my dad took of my mom, my sister, and me on the Hindu in the early 70s. I'm the one in the middle, with the lesbian haircut.

PAAM Secret Garden Tour. My favorite sanctioned snooping event of the year will be online in the coming weeks.

PAAM Members' 12×12 Exhibition and Silent Auction. My Betty Broderick-obsessed friend has an amazing drawing up for auction! Half of the proceeds go to PAAM and he will donate the other half to SKIP, which feeds our local vulnerable population throughout the off season.

I Am A Town. I hope that you all get to see this documentary about Ptown at some point. This review captures so much of what my own experience was viewing it. You can also see Sebastian Junger's interview with local son director, Mischa Richter, here.

"Being Prepared for a Hurricane" episode of WCAI's The Point. If a hurricane is going to hit Cape Cod, it's clearly going to happen in 2020. Because this simulation sucks. Can I trade with someone? (Also, here's the MA Coastal Zone Management page on all things hurricane preparedness.)

Modern English's "I Melt With You (from Quarantine)." For all my fellow GenX-ers out there holding it together for everyone right now.

I will leave you with the BEST two plus minutes of Drag Race realness from All Stars 5. When Carson looks at Michelle! Poor Miz Cracker whirling and twirling all around Roxxxy and Ru giving her only the slightest glance even though Cracks is serving everything but a flaming baton toss in those white gogo boots! Ru's plastered Chrissy Teigen smile! Carson losing his shit at the end while also giving proper side eye to clueless guest judge, Bebe Rexha! THOSE REVEALS!! and … "Bitch, you better shake that Roxxxy, yaaassss!"

I've watched it at least eleventy seven times! I hope it brings you joy, too.
*********
You must have a favorite mask by now, right?