Juniper Disco: first edition!
Here we go ...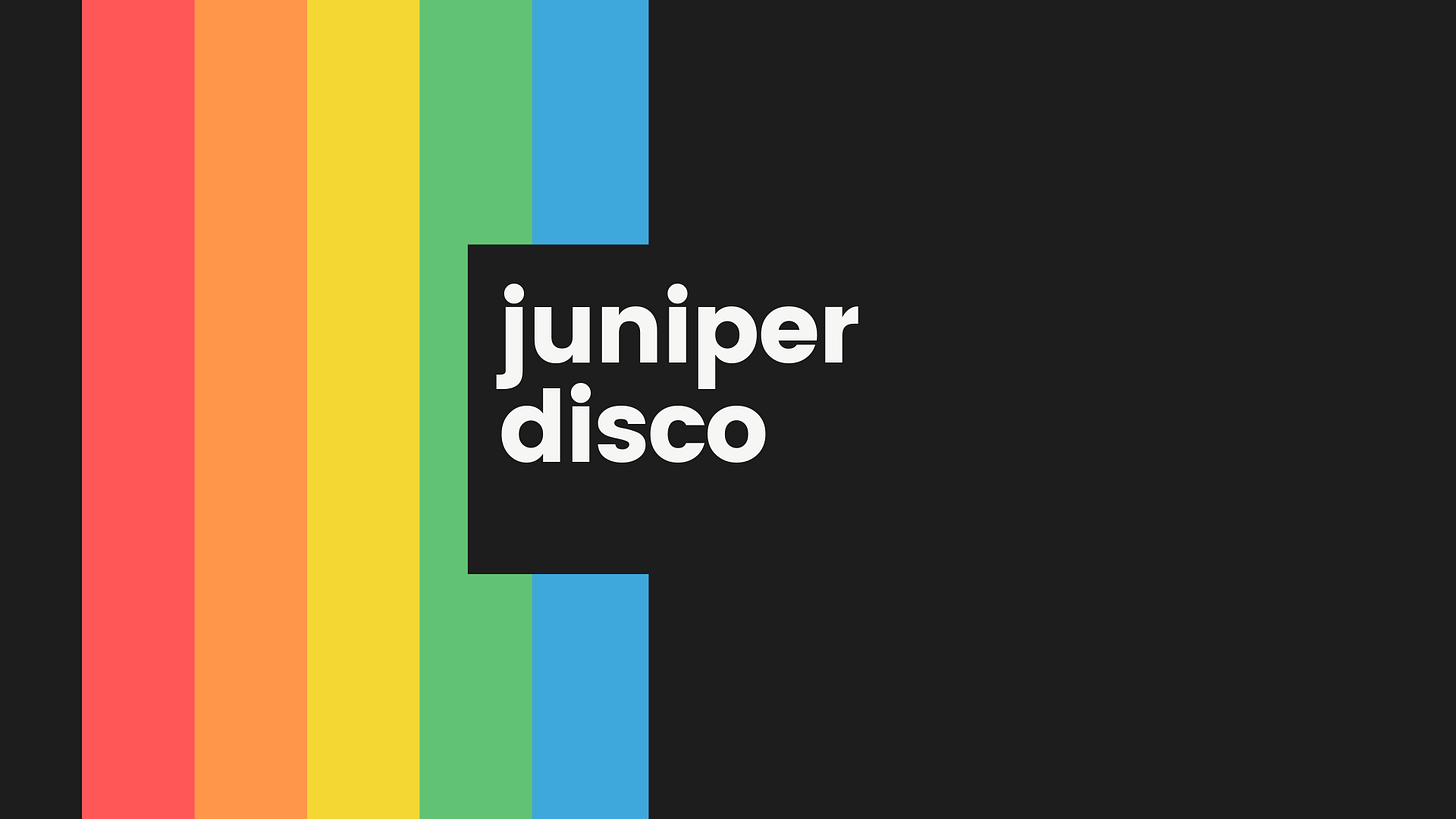 Welcome to the very first edition of Juniper Disco: The Newsletter! I'm humbly excited/excitedly humble that you are joining me in this new adventure. Expect a lively mix of short personal essays, your favorites from the blog, cute photos of Stephen, and lots of GIFs (a new skill in my toolbox, which I will overuse.)

Here's a cheat sheet for the new content structure:
RED — Magenta Chicken. When I was in kindergarten, I was scolded by my teacher for coloring my chicken the apparently offensive color of magenta. Mrs. Z said, "Missy, chickens aren't magenta." Without looking at her because I was too busy getting those wings just right, I said, "Mine is." This section will cover things — the magenta chickens — I've hesitated to share in an open environment out of fear of the Mrs. Z's (and the way, way, way worse) of the interwebs.

ORANGE — Extra Credit. A direct import from my blog, Notes from a Clamshell Path, this section will include the best stuff I've read online.

YELLOW — The Edge of America. A whole section of Cape stories and observations from my daily life in Provincetown.

GREEN — Teenage Missy. All the things my inner super enthusiastic teenage fangirl, like, loves! For Notes readers, all those recommendations you guys like will be here.

BLUE — Stephen is My Dog. My bestest boo boo — the being I spend the most time with on this planet — gets his own section of photos and stories. He's been my wisest teacher. And he's a very good boy.

BLACK — Toodle Pip! Consider this the wild card section for random thoughts and ideas to close out the newsletter. There will be lists.

My intent is for this to be fun and useful to you in some way. And, please, send me feedback and requests — unless you are a Mrs. Z, then you can keep that to yourself.

"A sin-eater is a person who consumes a ritual meal in order to spiritually take on the sins of a deceased person. ... Sin-eaters, as a consequence, carried the sins of all people whose sins they had eaten."

Sin eating is my 10,000 hour skill. My professional days used to be filled listening to people tell me everything from "I hate my boss/co-worker/you" to "I want workers comp for my monkey bite" to "I just called 911" to "my diagnosis is terminal now." Holding space for that much emotional vomit day after day can be soul crushing. (When you exclaim in all sincerity, "If they start stuffing people in the walls, I am DONE!", you know your job is not like the others.) Even after a couple years of therapy, I walk around with permanent battle scars — a pervasive distrust of people and a hair trigger defensive system that keeps people over there — but I also walked away with insight into human behavior that cannot be replicated unless you've spent that much time listening to that many people.

I've also had more than a few Forrest Gump moments in my life. Some weird shit has gone down. Painful, agonizing, hilarious, how is this my life, beautiful, embarrassing stuff. And next time, we'll start unpacking those tales from the vault.


Most of you who have been with me for awhile know that Provincetown is more than a "happy place" for me. I'm the third generation to live in this town. I am not a native. I did not grow up here. I've been a summer visitor, a summer resident, and now a salty-yet-I-really-don't-like-to-be-uncomfortable Year Rounder. But always a washashore. It's a calling to live here. While The Super Mr. has plunged right into the thick of things, I prefer to observe the social fray from the edges, dipping in here and there (fully costumed, of course.) Mostly, I prefer the dog park. And my deck and my birds and the empty spaces.

A single day here is like nowhere else. Within a few hours, I may go from picking cranberries in the dunes, to sipping wine at the vineyard, to putting on something sparkly to dance the late afternoon away at Tea Dance, to eating a lobster roll at a picnic table. We have parades all the time. We have Great! White! Sharks! and whales and mola molas and coyotes and cute fluffy fox kits and birds of the indigo variety and drag queens and Ru Girls and daddies and bears and bear daddies and people who have the Atlantic Ocean coursing through their veins and the first land the pilgrims ever stepped foot on and the descendents of the Wampanoags they met. We also have climate change and loss and substance abuse and Mystic Pizza issues. We bitch about everything and then we put on a costume and have a parade.

COOL STUFF
MARK YOUR CALENDARS
 November 21. The Depeche Mode documentary, SPIRITS in the Forest, about six special fans — including one who was in a car crash who remembered only one thing, Depeche Mode, after she woke up — at their closing show of the Global Spirit Tour. In theatres for one night only!

November 23. If you live in NYC or will be in the city that day, the first ever BOOK FAIR FOR GROWNUPS — just like those awesome school book fairs — will be at The Lightbox. I have serious FOMO about this one.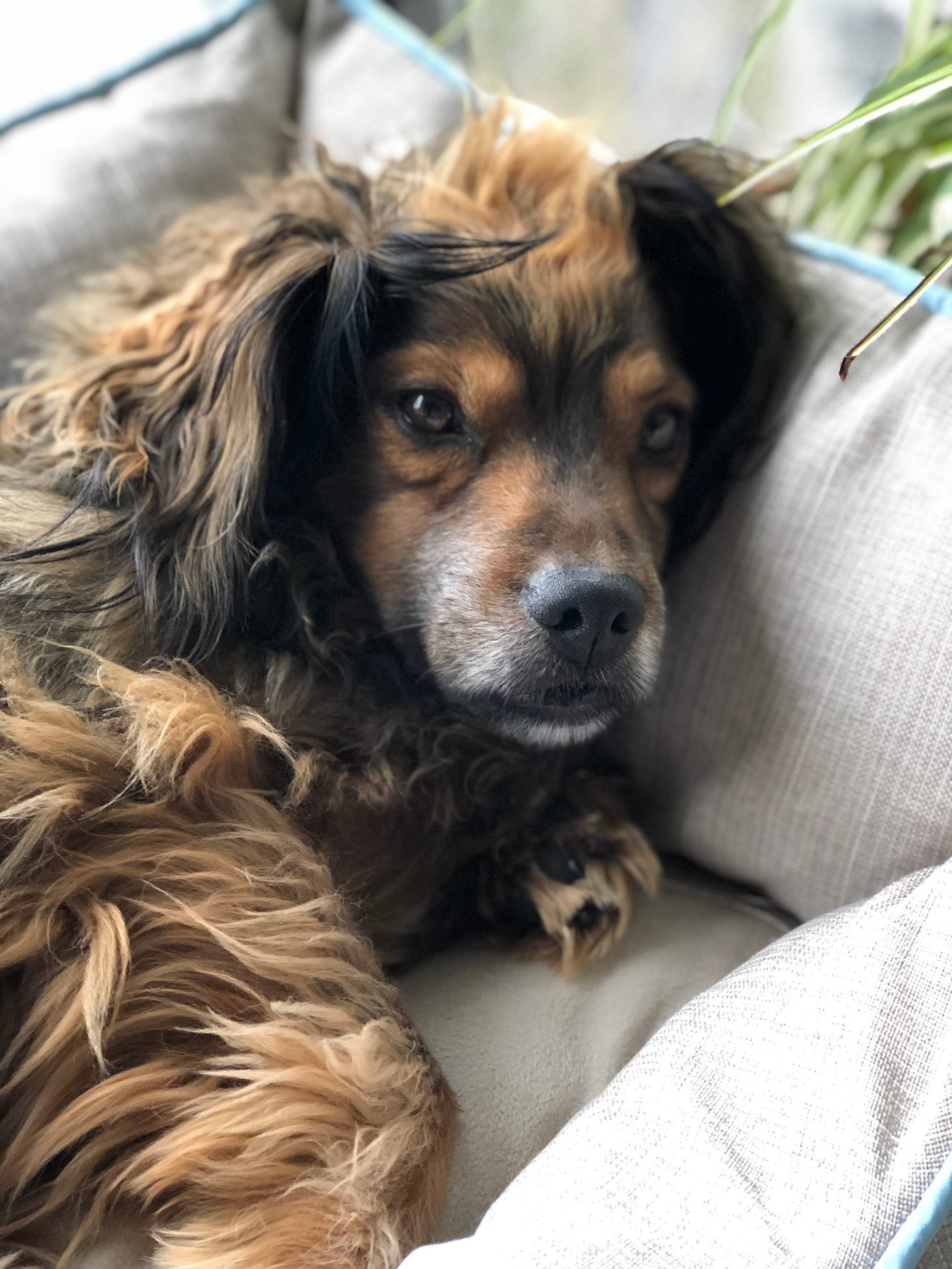 My vet is starting to think I have Munchausen syndrome by proxy. Stephen has had a rough couple of months. It started with a reverse sneezing fit (that sounded like he was dying.) After driving as fast as I could to the vet's office, I carried him inside in super dramatic Dog Mama AF fashion screaming "THERE'S SOMETHING WRONG WITH HIM!!!" (he stopped the minute I put him on the floor in the waiting room, wagged his tail, and proceeded to give out kisses to everyone sitting there.)

Later, there was blood where it shouldn't have been. There were blood tests. He has chronic exposure to lyme disease (75% of dogs in the Northeast do) and requires protein monitoring. More blood tests. There were anal gland problems and the worst noise I've ever heard him make. He had his teeth scaled while he was awake, bits of plaque flying around the room while he sat perfectly still. A very good boy indeed. We had to change his food. He takes antacids at night with chicken The Super Mr. cooks for him. We followed him around with a jar and then a soup ladle trying to catch his pee. Just after his regular grooming session, he rolled around on something very stinky in the woods and then hid from me under the bed before I could wash it off. He's now excessively biting his tail and back legs.
Sigh. I guess I'm going to have to call the vet again.

Thank you so much for reading this inaugural issue of the newsletter! If you think someone you know might enjoy this, feel free to forward this to them and invite them to join us!

Notes from a Clamshell Path will publish on the blog next week (only one more monthly version after that!) And I'll see you back here in two weeks when we'll really dive into it.